As an Acoustic Neuroma surgery survivor (taking into account those who are W&W and post-radiation) I often read questions that come up regarding air travel. "Is it safe? Comfortable? Possible?"  I am here to say, "YES!" and even in the extreme.
I started to write this post about 48 hours after I arrived home from getting on a plane in Dallas at the end of my ANA Board meeting. 48 hours before that I was on a plane returning from six days in Shanghai to go to Dallas for said meeting. For those 96 hours, I felt like I was just barely able to function, putting one foot in front of the other, being "awake" because it was light out, and blessing the universe when dark came so that I could sleep.
Until then, I could barely put pen to paper (or hands to keyboard) for much more than a few characters together in an email, on an Instagram photo or response to a Facebook comment. But as I started thinking about the past ten days, and how amazing they were, I knew I was ready to share them (if anyone was interested.)
So I'm breaking my trip to Shanghai into a few postings. This one is about the business of the International Acoustic Neuroma Conference in Shanghai. There are some photos and videos along with this. I'm sharing this on the ANA website as well.
The others, about the touristy part of the trip itself, I will post on my personal blog. It will include more scenic photos and stories of my sometimes successful-at-traveler, sometimes culture-clashing experiences. You are also welcome to enjoy that if you wish.
Dr. Tom Roland is responsible for my participation in this event. He was sitting on my right at a board meeting last fall, my good ear side, and said loud enough for me to hear that ANA should have a presence at the 7th Annual AN Conference. In Shanghai.
I love being a member of the Board of ANA. I work with the most amazing, committed, passionate people who do the work they do on behalf of ANA FOR FREE. I know I have strengths and gifts to share with ANA. I know that one thing that makes me feel good is to be grateful and to use my gifts for good.
I could see myself in Shanghai, walking up to these complete strangers, these internationally known and respected doctors and surgeons, and shamelessly share the existence and mission of ANA. I would tell them I was a lucky patient, supported and educated by ANA. (This was harder than I thought it would be.)
Three months after that October board meeting, I was told I could represent ANA at the International Conference. I purchased a round trip airline ticket, made a hotel reservation, applied for my Visa and watched the clock tick the days away until my departure date of April 10.
I arrived to the Conference location early in the morning on the first day of registration.
Like a kid on the first day of school, or a crazed fan at a rock concert, I could barely contain myself. I was looking forward, anticipating what I had hoped to be not only a successful trip, but one that would justify the amount of time I had spent sitting in an airplane, away from home, just because I thought it was a good idea at the time.
When my cab pulled up to the building, a billboard sign announced the event. I felt like I was at the AN Olympics.
Registration opened before 9am. I know I must have been one of the first people there..every station had someone there, ready to help in whatever language they spoke.
I picked up my name tag and my bag full of conference materials.
Then I had 8 more hours to kill until the opening gathering. I went into the hotel next door where a majority of the conference faculty presenters and delegates were staying and sat in the "coffee shop."
Sitting directly across from me was Tom Roland. He invited me to sit with him, and we chatted about the conference, about ANA, about his being on faculty as a presenter, and showed me the beautiful porcelain pen gift they gave him to thank him that was given to him with his conference materials.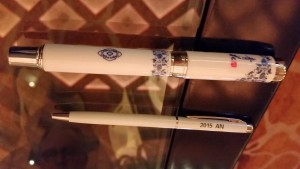 The little one is mine. (I like my pen just fine.)
At 6:30 there was a reception to welcome the delegates and faculty. I met two surgeons from Denmark who told me that they use the ANA materials in their country and they are very helpful. Shortly thereafter, the surgeons who are on the ANA MAB came in, Rick Friedman, Marc Schwartz and Mike Link. They introduced me to their associates. Marc was kind enough to point out Dr. Gareth Evans, a surgeon from UK who was very happy to chat with me about ANA and his presenting topic, NF2 and treatment options.
The next morning came very early. I don't know why mornings come so early when I'm away from home, but this one did. There was a surgical presentation at 7:30, I skipped that. The opening ceremony came at 8 with full welcome by the International Committee President. (sorry about the formatting of this video…it's only about 30 seconds. But it takes up two pages on the screen until you click the "play" button.)
In my packet of materials was a book with descriptions of all of the presentations, panels, keynotes and faculty members. I had carefully looked through the night before the first day to decide which "courses" I would attend. I chose them based upon my personal interest and curiosity, as well as by presenter. Here are a small fraction of what was offered, the schedule of presentations that I attended:
SUNDAY:
Registration
Welcome Gathering
MONDAY:  Opening with full ceremonial dance which is sadly, way too big to post here. Trust me, it was incredible.
Keynote Dr. Brackmann from HEI about his surgical experiences
Keynote Dr. Madjid Sammi from Germany about his surgical experiences and offer of advice to new surgeons
Panel   on Facial and Hearing preservation in AN. This included case studies which I found interesting because on occasion, surgeons would have different advice for how to treat the AN. They showed videos of surgery…at times I did have to look away.
Keynote Dr. Evans from UK who has done extensive research and treatment of NF2
Chinese Experience
AN Management
Giant Tumor/Hearing Restoration Many of the surgeries presented included implantations of CIs or ABIs when hearing loss was confirmed (after translab)
Treatment Options I attended this seminar because it referenced "transonic approach" in treatment…I'm still not sure what that was.
I also spoke directly with doctors from Japan, England, Germany, France and the Ukraine.
TUESDAY:
Keynote Dr. Mario Sanna from Italy regarding his personal surgical experiences and his treatment and management preferences.
Keynote Dr. Takanori Fukushima from Japan on hearing preservation
Panel on treatment of NF2- There were a few videos of surgery, I took my glasses off to blur the details, but didn't look away.
Panel on Mayo Clinic Experiences and results of partial completion of Quality of Life Survey
Panel on post Radiosurgery treatment – a lot of comparative results based on W&W, post surgery and post radiation in response (or contrast) to the comments made by surgeons. There was also a physician who was SUPPOSED to talk about tinnitus, but at the start of his presentation, he said it was too difficult to discuss. NO KIDDING!  Sheesh.
Decision Making with David Moffat of England
Panel on Management of Facial Palsy – fascinating and hopeful
Decision Making with Marc Schwartz of HEI
WEDNESDAY:
Panel on NF2 Challenging cases
Keynote by Dr. William Slattery from HEI on Middle Fossa
Keynote Dr. J. Thomas Roland from NYU on NF2
Panel on treatment of AN after failed radiation – I'm not sure how, but I appear to have turned the corner here. Not only did I watch with sincere interest, but I could recognize the facial nerve!
Vestibular Complications – This was the first time I had heard the term "pre-hab" in relation to pre-treatment vestibular evaluation and therapy. This is used in South Africa and Sweden. I'm hoping more patients around the world have this an an option.
I also spoke with doctors from England, Egypt, Canada, Sweden
Closing:  It was announced that there were 500 faculty, delegates and participants from over 300 countries!  I spoke with 25 from 10…. not too bad.
It was also announced that the next International Symposium would be held at the Mayo Clinic in Rochester, Minnesota. Pretty exciting!
OVERALL:
All of the presentations were offered in English. The keynotes, when presented by non-English speakers, were also posted on their power point. Most of the people there spoke some limited level of conversational English, but absolutely fluent French (in my observation) in addition to their native language.
There was little if any discussion regarding how the treatments are financed, whether it's by private pay, insurance, government or general health care. It will be interesting to connect with and follow up with patients from around the world.
next: playing tourist