The Gala did not take place on my last night in Shanghai, but this will be my last post about the week that was.  The only souvenir I really searched for was for something, anything that said "Pudong" as Ken thought I made up the name.  Apparently, it's easier to find something in China that says "Bellingham." Pudong is more of a neighborhood name, so every souvenir either said "China" or "Shanghai." I was able to use my mad Linguistic skills and eke this out of a street sign: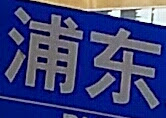 I'll be printing t-shirts soon…
I did finally find some postcards that were incredible historical photos, and mailed them back to the states on my second day. As of today (three weeks later) they still have not arrived. I'll keep you posted. (See how I did that?)
The Gala Event brought us to the East side of Shanghai, through the Renmin Rd. Tunnel. There were three or four busses to take the 200 or so delegates, faculty and guests.
The Gala took place in the Shanghai Classical Hotel, located in the Yuyuan Tourist Mart, a famous garden in Shanghai, was founded in 1875. Entering the lobby, on the walls hang pictures of the hotel in different developing periods, which make a visitor think he came back to Shanghai in 1940s. On the third floor, with the help of trolley buses and menus of that period, visitors can experience unique emotional appeal of the past Shanghai. Lido, Parliment, Broadway, and Queen—four famous ballrooms in Shanghai before liberation. Shanghai Classical Hotel has hosted heads of many countries, ambassadors and celebrities, such as First Lady of Russia, Mrs. Putin, Singapore President Nathan, former First Lady of China, Ms. Wang Guangmei, well-known business man in Hongkong, Mr. Run Run Shaw, and Indonesia's President Megawati, who came to Shanghai to attend APEC conference.
We walked around the Yu Garden Tourism Area 
Yu Garden Old Street: Concentrated with special traditional products of Shanghai old area, the old street fully reflects the management characteristics of "famous, special, excellent and exquisite".
Nine Turn Bridge & Lake-Center Tea House: By the name of "Pavilion in Lake Center", Lake Center Tea House is the oldest tea house in Shanghai. Together with Nine Turn Bridge, they are the symbols of Shanghai.
We arrived well after sundown, and as we walked around in the dark, the beauty was made even more vibrant by the bazillion (yes, that's a number) lights.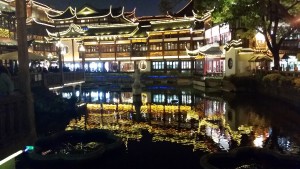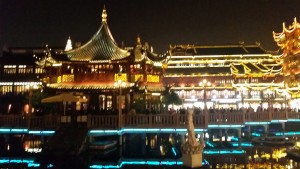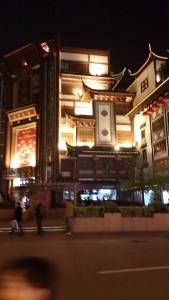 And then finally, the dinner.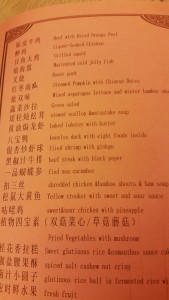 I spent a lot of time trying to figure out what I was eating. Only one item made me stop and behave, that was the jelly fish. The lobster more than made up for it!
I look back on my days in Shanghai, not very many, and they all went so quickly. Thanks to those who followed me on Instagram, and thanks to everyone else who put up with me on re-entry.  Now, on to what's next!
Acoustic Neuroma Awareness week, coming next week!